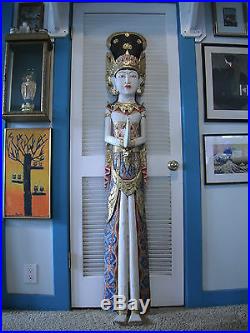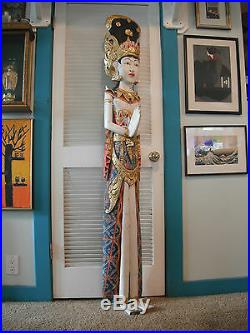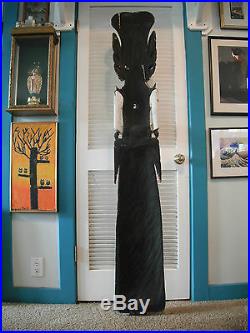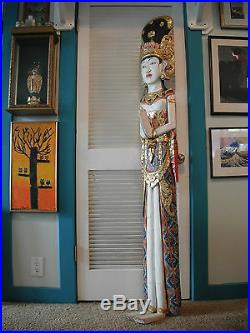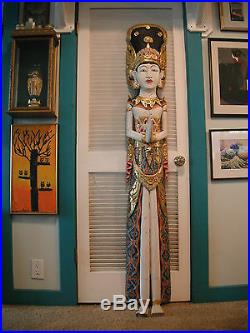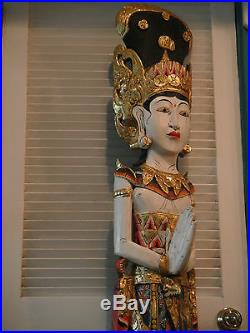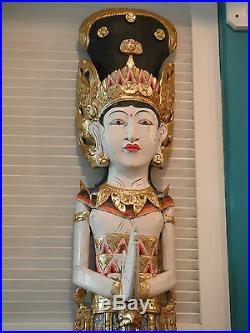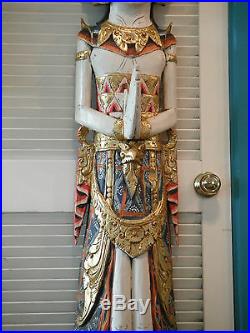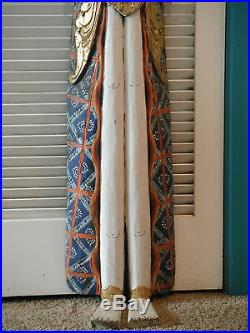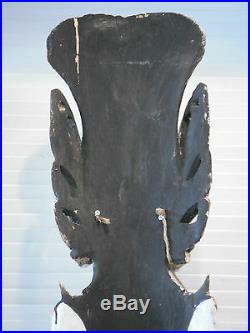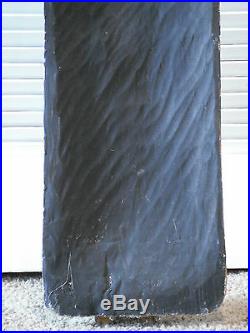 Lifesize Balinese Dewi Sri Huge 5′-10(178 cm) Wood Carving Colorful Polychrome Finish. Height 70 inches (178 cm). Width 10 inches (25.4 cm). Depth 10 inches (25.4 cm). This is a life size hand carved serene figure of the Goddess Dewi Sri. Dewi Sri, or Shridevi (Dewi literally means goddess) (Javanese), Nyai Pohaci Sanghyang Asri (Sundanese) is the Javanese, Sudanese, and Balinese pre-Hindu and pre-Islam era goddess of rice and fertility, still widely worshipped on the islands of Bali and Java. Despite her mythology origin from the island of Java, after the adoption of Hinduism in Java as early as the first century, Dewi Sri became associated with the Hindu goddess Lakshmi they both are attributed to wealth and family prosperity. In current Balinese Hindu belief, Dewi Sri corresponds to an amalgamation of the Hindu goddesses Lakshmi, Devi, and Sri. She continues to be associated with rice, fertility, a successful harvest, and family prosperity and harmony. Worshippers make token food offerings and prayers to Dewi Sri so she may grant health and prosperity to the family. You can see the chisel marks on the back side where it has been hollowed out (probably to reduce its weight). This carving is in excellent condition, there is some finish rubbing on the face and a hairline crack at the top right of the head that is not very noticeable from the front only apparent from the back. Had originally a piece of twine to secure it but it has deteriorated over time, the previous owner added the screws to secure it from falling. There is also remnants of a label on the back which most likely said Made in Indonesia. Her left arm also has a hairline crack in the finish and also at the seam between her feet and ankle. She has a nice patina most likely dates from the 1970s, has gold leaf and a traditional paint palette. The hands are in the namaskara mudra gesture of greeting, prayer and adoration. You can see the scale and detail of this Balinese carving all very nice and clean. See all the photos for the composition and condition of this traditional devotional carving. If you have a special request we will do our best to adjust the schedule to accommodate your schedule. It is my intention to be as clear and accurate as possible. In the event I make an error, I will always do my best to remedy the situation. Please feel free to contact me with any questions. Bali Carving, Balinese, Shiva, Garuda, Ramayana, Barong, Hindu, base relief carving. India, Indonesia, Hardwood, Suar or Rain Tree. Dewi Sri is believed to have dominion over the underworld and the Moon. Thus, Dewi Sri encompasses the whole spectrum of the Mother Goddess- having dominion over birth and life: she controls rice: the staple food for Indonesians; hence life and wealth or prosperity; most especially rice surpluses for the wealth of kingdoms in Java such as Mataram, Majapahit and Pajajaran. And their inverse- poverty , famine, hunger. (to a certain extent) and death. She is often associated with the rice paddy snake. Dewi Sri remains highly revered especially by the Javanese, Balinense, and Sundanese people of Indonesia though there are many regional analogues or variations of her legend throughout Indonesia. Despite most Indonesians being observant Sunni Muslims or Balinese Hindus the indigenous underlying animist-era beliefs, notably of Sunda Wiwitan and Kejawen, remain very strong, are worshipped parallel to Islam, Buddhism, Hinduism and Christianity without conflict; and are cultivated by the Royal Courts, especially of Cirebon, Ubud, Surakarta and Yogyakarta, which are also popular local and international tourist attractions. The Javanese harvest ceremony is called Sekaten or Grebeg Mulud which also corresponds to Maulid Nabi; the birth of Prophet Muhammad. The item "Lifesize Balinese Dewi Sri Huge 5′-10 (178 cm) Wood Carving Colorful 1970's Rare" is in sale since Wednesday, February 19, 2014. This item is in the category "Art\Art Sculptures". The seller is "toronita1″ and is located in Port Orange, Florida. This item can't be shipped, the buyer must pick up the item.
Region of Origin: Indonesia
Medium: Wood
Subject: Religious Statues
Original/Reproduction: Original
Largest Dimension: Larger than 5ft.